Are you looking to install a new boiler in your home? It can be easy to get overwhelmed with all the different models and manufacturers available to you, especially if you haven't looked at the boiler market for the last ten years! The first thing to know is that all new boilers are 'condensing'. Condensing boilers use modern technology in order to be more efficient. Instead of allowing heat to escape, it condensing inside the boiler- allowing it to be used again. This means that whichever new boiler you pick, it is guaranteed to be much more efficient than your previous model. However, you should still be on the lookout for A Rated boilers to really get the most efficient new boiler as possible.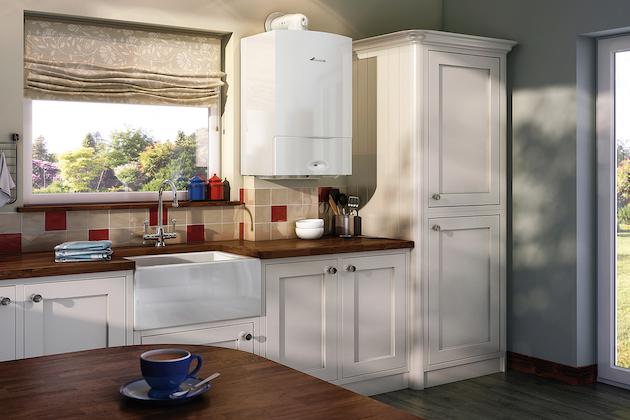 Conventional
Conventional boilers are ideal for larger homes or large families, as they can easily meet a high demand for hot water. They are also great for homes with older radiator systems, as they will struggle to cope with the pressure coming from other boiler types.
They require two water tanks and a storage cylinder, so need a home with a lot of extra loft space available. You also need to ensure your storage cylinder is correctly insulted, as hot water energy is at risk of escaping while it is being stored.
System

System boilers are also great for large families as they can meet high demand for hot water, while only requiring one water tank. This makes them ideal for homes that have less available space.
Similar to above, you need to make sure that you insulate your storage cylinder properly, to avoid wasting any energy. As well as this, you will be limited to how much hot water your cylinder can hold- if you need any more than this then you will have to wait for it to refill.
Combi
Combi boilers are ideal for smaller homes, as they only require a boiler unit and no other components. They run off of mains water pressure, so heat water as and when you need it. This makes them very efficient and great for the environment, as well as meaning you never have to wait for your water to heat up.
When getting a combi boiler, there are a few drawbacks to consider. You will not be able to use two taps at once without affecting the water pressure.
Do you need a new boiler in Merseyside?
We install new boilers across Liverpool, Merseyside & surrounding areas including, Rainhill, Eccleston Park, Allerton, Crosby, Woolton & Cronton. To get in touch, give us a call on 07572 343149 or 0151 832 2050, fill out the contact form on our website, or email us at info@rainhillheating.co.uk. We hope to hear from you soon!